Open-ended customization.
ochs und junior offers open-ended customization of Ludwig Oechslin's rigorously simple watches. You can determine the size, materials, colors and more for your personal ochs und junior.
I, Beat Weinmann, will collaborate directly with you as the cofounder, CEO, and head of development and production. We have built more than 100 custom-made watches for clients all over the world. I know the story of each individual watch. And with joy and pride, I have either personally handed it to its new owner or carefully packaged and shipped it via FedEx.
The customizer tool on our website enables you to test ideas and send them to me directly. Do you have a specific color in mind? Or are you looking for a detail that is not possible in the tool? Get in touch with me! Almost any wish can be realized. We can create a photo-realistic mockup for you within 2 to 3 days.
How long will it take to build my custom-made watch?
Depending on the options you chose, the production of your custom-made watch will take 6 to 12 weeks. ochs und junior parts are manufactured by Peter Cantieni and colored by Cador. If we are working with patination processes to execute your design, your watch will be ready in 6 to 8 weeks. In this case the entire manufacturing process, including patination, is done by Peter Cantieni. If we need to send the dial and the hands to Cador, the production will take 10 to 12 weeks. Smaller adjustments to watch models we have in stock, such as a change of hands, can be done within 2 weeks. In the case that we are working with new materials for you or in the case of further reaching bespoke work, such as building a pocket watch or manufacturing a working model of the Antikythera, I will let you know what the precise production schedule is  –  ask me.
How much will my watch cost?
Each year, we manufacture around 150 watches. Since we share Ludwig Oechslin's innovations with only a few people all over the world, there is no serial production at ochs und junior. The watches for sale in our work space in Lucerne are, like our custom-made watches, manufactured individually. Modular parts such as the cases, buckles, and crowns are produced in small batches. This is why most custom-made watches are sold at the same prices as the reference models for each function.
Base price for a custom-made moon phase watch with titanium case, crown, buckle: CHF 8'000.- (including 8% VAT)
Base price for a custom-made moon phase watch with sterling silver 925 case, crown, buckle: CHF 10'000.- (including 8% VAT)
If your watch requires complex patination processes and parts executed in precious metals, the price will probably be similar to that of the nebra, which is an example of such a watch. It costs CHF 11'800.- in titanium or 13'800.- in silver (including 8% VAT). For quick and competent advice on further customization prices, just get in touch.
Where will my watch be manufactured?
All innovations and parts developed by Ludwig Oechslin are manufactured by Peter Cantieni at his workshop in Hinwil, Switzerland. This guarantees that even small batches and individual pieces are executed with the utmost precision and are delivered in a timely fashion. Overall, our production method is closer to that of prototypes than to the method used in the serial production of conventional luxury watches. Should you choose a colored dial and colored hands, the color work is executed by Cador just across the Swiss border in Eimeldingen, Germany. Besides the processing of our leather straps (also Germany), this is the only process that takes place abroad. Every other production step and process is executed in Switzerland. At the end of the manufacturing process, your watch is assembled by ochs und junior watchmaker Sandra Flück in Lucerne.
My question is not answered here.
It would be my pleasure to answer your questions directly.
Beat Weinmann
Email: [email protected]
Tel. +41 (0)41 266 02 12
Mobile +41 (0)79 232 63 15
Skype: beatweinmann
Patination
The first truly unusual custom-made ochs und junior was created in 2012 for a physician from Lucerne. He was interested in astronomical phenomena and their representations. Currently he is planning a sun dial for his house.
For a big birthday, he bought himself one of the precise moon phase watches by Ludwig Oechslin. He chose a case in the same material as his daily-used custom-made bike: titanium.
The dial was to be a very special one. He brought us a book with pictures of the Nebra Sky Disc and asked us to design his watch with this in mind. He decided to wait for his birthday at the beginning of December to see the final result.
Together with Marc Höllmüller, one of the most talented jewelers in Switzerland, we developed the concept of the moon phase nebra.
The dial is heat-treated and copper-patinated and takes on the same irregular turquoise sheen as the Nebra Sky Disc. The indices are inlaid with gold leaf; the sun at 12 o'clock is a solid, hammered 12k gold disc.
The hour and minute hands are made of gold-plated brass; the second hand is copper-patinated like the dial. The full moon consists of solid platinum, the new moon opposite of patinated silver.
Our client, the physician from Lucerne, was and is so happy with his personal moon phase watch that he asked us to present the watch on our blog. Since then, several visitors to the ochs und junior website have discovered this special watch and have ordered their own individual version of it.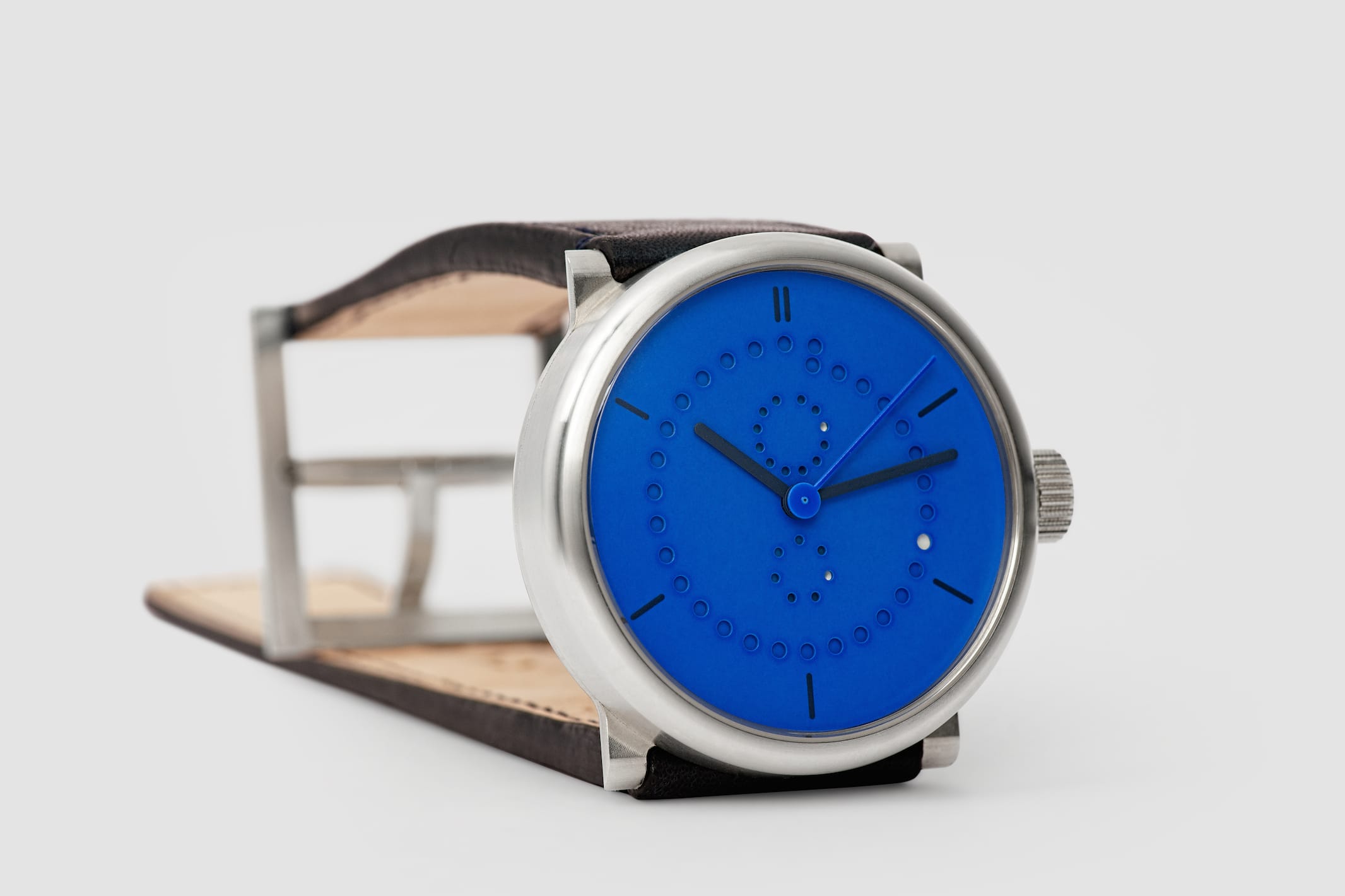 Any color
The watch pictured above has a sterling silver 925 case and belongs to Nabil Gholam.
Nabil Gholam is an internationally recognized architect with offices in Seville and Beirut. He has been following our work since the very first project that Ludwig and I worked on. He calls us "the most modern watch company in the world" and the newest addition to his vintage watch collection is from ochs und junior.
Nabil ordered his annual calendar in May 2010 with a silver case, a darkly patinated dial, and white hour and minute hands. He asked us to patinate the second hand just like the dial. Thus he would be able to read the time with a single, quick glance, while the second hand would still be visible if needed.
We might have taken a while longer to come up with this straightforward idea to improve functionality. Nabil had it first and shared it with us. Now his idea is taken up by most ochs und junior owners for their personal watches. It is simply the best solution.
Nabil Gholam published a book this year. A very personal creation, it presents his works from the past 20 years and comes in different shades of blue.
He came to us with the idea of changing the dial in his annual calendar to Yves Klein blue. It's a very complex hue with a complex structure. Together with our partner Cador, we manufactured six versions until we were happy with the result. The re-customized watch has now been sent back to Nabil Gholam.
Rust
The idea is as crazy as it is daring! Rust really has no place in a watch. Then why is there rust in an ochs und junior watch – and by design?
The CEO of a large Swiss company producing ultra precise parts in iron challenged us to manufacture a date watch with a rusty iron dial for him. Since we like the concept of having only two visible metals with no added color, we worked with our partner Peter Cantieni to create a single execution of this watch.
Cantieni executed the dial and the date disc in iron. He left them to rust, then milled out the indices and the date dot, creating the contrast necessary for optimal readability  –  with no added color.
The hands of this watch, too, are custom-made by Peter Cantieni.
Since both the client and ourselves are equally curious to see how the dial will react with time, we have decided not to protect it from further rust by varnishing it. We think that it will not change much since the environment within the watch is poor in oxygen. However, we are not sure. For that reason we offer the same lifetime warranty on all parts manufactured by ochs und junior for this watch.
In early 2013, I showed this watch to a business man who had already visited us several times. He was (and is) the proud owner of a moon phase patina.
In spring 2014, this client visited us again and asked for a rusted dial. However, he wanted it on an annual calendar.
This presented us with the challenge of manufacturing the functional dial of the annual calendar, whose back is part of the gear system displaying the month and day, and the intermediate wheel with two times five teeth in iron. We also had to let the front rust, while keeping the back free of rust to preserve the dial's functionality.
We succeeded. Our client now owns one of the most unusual ochs und junior watches: the annual calendar with a rusted iron dial, milled-out indices and iron hands. The sterling silver 925 case will soon develop a patina of its own.