Mechanics
How is Oechslin's moon phase function implemented?
An epicyclic gear train driven by a central finger bonded directly to the hour pipe turns the lunar disk beneath the dial counter-clockwise. The central finger engages with a wheel bearing 12 teeth, whose pinion with 14 teeth meshes with a wheel bearing 18 teeth, whose pinion with 14 teeth meshes with the fixed recessed ring gear with its 109 teeth machined into the underside of the dial (diagram).
What is the benefit of a highly precise moon phase calculation?
The average time between two identical moon phases is 29.530589 days. Most moon phase watches approximate a lunation as 29.5 days, which leads their calculation to be off by 1 day after 2 years. The closer your moon phase calculation comes to the average lunation of 29.530589 days, the "flatter" the difference between your prediction and the actual moon phase. The ochs und junior moon phase calculates the lunation as 29.5306122449 days. As a result, it will predict the moon phase correctly for 3,478.27 years before it is off by 1 day. This means that you only have to set your moon phase one time, and you can trust that its prediction is precise.
Case
What is unique about the case design?
Oechslin's 2 part case requires less sealings to achieve water resistance (50m). It also requires no movement ring. Watch cases are typically designed like a sandwich, with 3 parts  –  a bezel, case middle, and caseback. They also require a movement ring to correct for inexact fit between the movement and the case. Manufacturing the case is technically demanding work. Oechslin and Weinmann approached several Swiss case makers and none were able to manufacture it to Oechslin's design. Peter Cantieni individually machines each ochs und junior case precisely to Oechslin's specification.
How are the cases finished?
Oechslin thinks a watch that reveals its history is more interesting  –  and that this history begins on the day the watch is manufactured. ochs und junior cases have visible machining marks which show the precision of Peter Cantieni's workmanship. They also reveal the raw material, like the principle of modern architecture "truth to materials". Oechslin and Weinmann were told by several Swiss case manufactures that finishing steps (like polishing and bead blasting) were necessary to remove unsightly imperfections from their machining processes. Peter Cantieni is an artist with his machines and ochs und junior leaves its cases exactly as they leave his workshop in Hinwil, Switzerland.
What materials are used?
You can have your case in grade 5 titanium (pictured above) or in sterling silver 925. Titanium is the most functional material for a watchcase: lightweight, robust and completely hypoallergenic. Silver is a romantic metal that reflects light beautifully and develops a personal patina over time, like a grandfather's pocket watch. Your case can be executed in other materials upon request.
What are the dimensions?
You can have your case in 39mm or 42mm. Upon request, your case can be manufactured in 36mm as well as much larger sizes. The case height is 11mm, and the space between the lugs is 22mm (diagram).
How do case size and material affect the weight?
The 42mm moon phase weighs 70g in titanium and 109g in silver (including leather strap and buckle). The 39mm moon phase weighs 62g in titanium and 101g in silver.
Are the lugs on the case sharp?
Our customers, including ones with larger wrists, have found Oechslin's case extremely comfortable due to its short lugs. However, we manufacture our cases one at a time and with pleasure can make the lugs softer for you if you like.
Can the case be engraved?
We can laser engrave any image, text or symbol you might like onto the back of your personal ochs und junior. Just let us know your wish.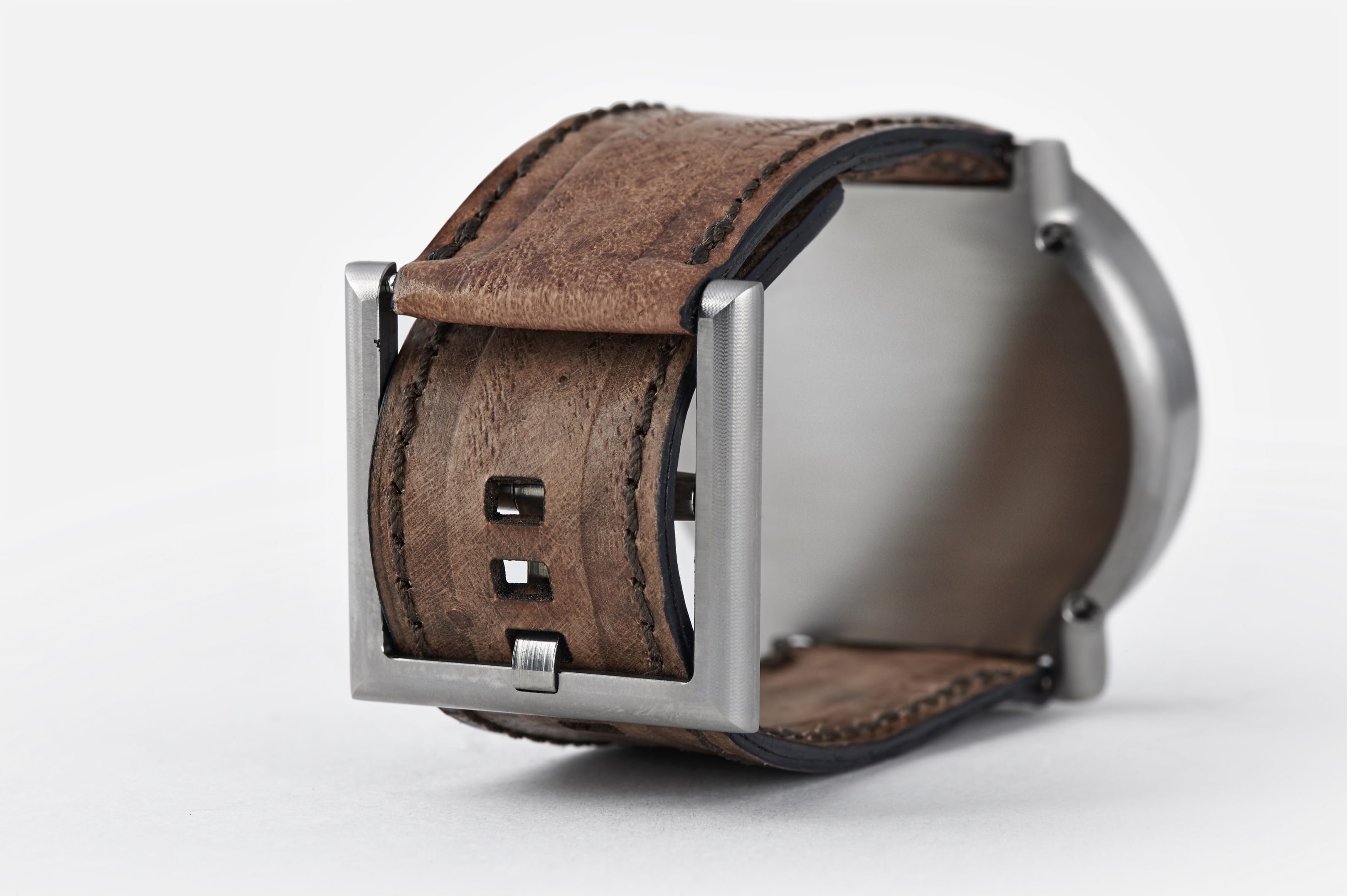 Buckle
What type of buckle do ochs und junior watches use?
Most leather watch straps have loops for securing the excess strap. The loops are the part of the strap which undergoes the greatest stress. As a result they are always the first part to break. Ludwig Oechslin's buckle has an extra-wide opening which enables you to tuck the tail of the strap inside against your wrist. The solution is aesthetically elegant and the fit is exceptionally comfortable. This buckle comes in titanium (pictured) and silver. It fits ochs und junior's sturgeon, leather, and suede straps.
Does this affect sizing?
Yes. A watch strap with no loops needs to be more personalized. You can use a tape measure at home or you can use this printable tape measure to measure your wrist.
Are the buckles for the 39mm and 42mm watches identical?
The 39mm buckle exactly matches the slightly narrower width of the 39mm case (just like the 42mm buckle exactly matches the 42mm case). The buckles use the same 22mm straps.
Crown
What type of crown do ochs und junior watches have?
ochs und junior watches have a "screw-down" crown. Twisting the crown clockwise until it stops locks it into place. It can then be unlocked by twisting it counter-clockwise. A screw-down crown improves water resistance (50m). You can use your ochs und junior when you swim, take it in the shower, or play sports.
Can you manufacture my watch with the crown on the left side?
Yes! We make about 150 watches per year and can manufacture your timepiece with the crown on either the left or the right side of the case. Our one-off manufacturing process makes this possible.
Are the edges of the crown sharp?
We have received a request to round the edges of our crown twice. Both times we softened the edges for the customer quickly and with pleasure (and of course, at no charge).
Base movement
What base movement powers the ochs und junior moon phase watch?
The Swiss automatic ETA 2824-2 (pictured above from the front and back inside a protective plastic cover).
Why was this movement chosen?
Oechslin likes to work with the ETA 2824-2 because it provides everything he needs to create new functions: space for new constructions, plenty of power, and high reliability. It is also a base movement that can easily be serviced by any competent watchmaker in the world, which gives its owner a measure of independence.
How much power reserve does the watch have?
Approximately 38 hours.
How do you regulate it?
ochs und junior watchmaker Romana Fux hand-regulates every cased ochs und junior to 0/+5 seconds per day in 5 positions.
Crystal
What type of crystal does ochs und junior use?
ochs und junior uses sapphire crystals manufactured by Stettler in Lyss, Switzerland. Both sides are treated with anti-reflective coating by Econorm in Switzerland.
What is the advantage double-treating the crystal?
This provides a reflection-free view onto the dial of your ochs und junior. It is almost like the crystal isn't there. We leave the crystal in place for all of our watch photos.
Night-visibility
What technology does ochs und junior use for night-visibility?
We use Super-LumiNova coating manufactured by RC TRITEC in Teufen, Switzerland. The Super-LumiNova coating is applied by MONYCO in La Chaux-de-Fonds, Switzerland. We can treat any color with Super-LumiNova.
What color does the Super-LumiNova glow at night?
White parts are green at night, while orange and yellow parts appear yellowish. The lighter the color, the higher the night visibility.
Are ochs und junior's pure metal watches legible at night?
Our high-contrast patina watches (for example, moon phase patina) are legible with the slightest bit of light, like the glow of a movie screen, or the moonlight on a late walk. Super-LumiNova is the solution for legibility in complete darkness.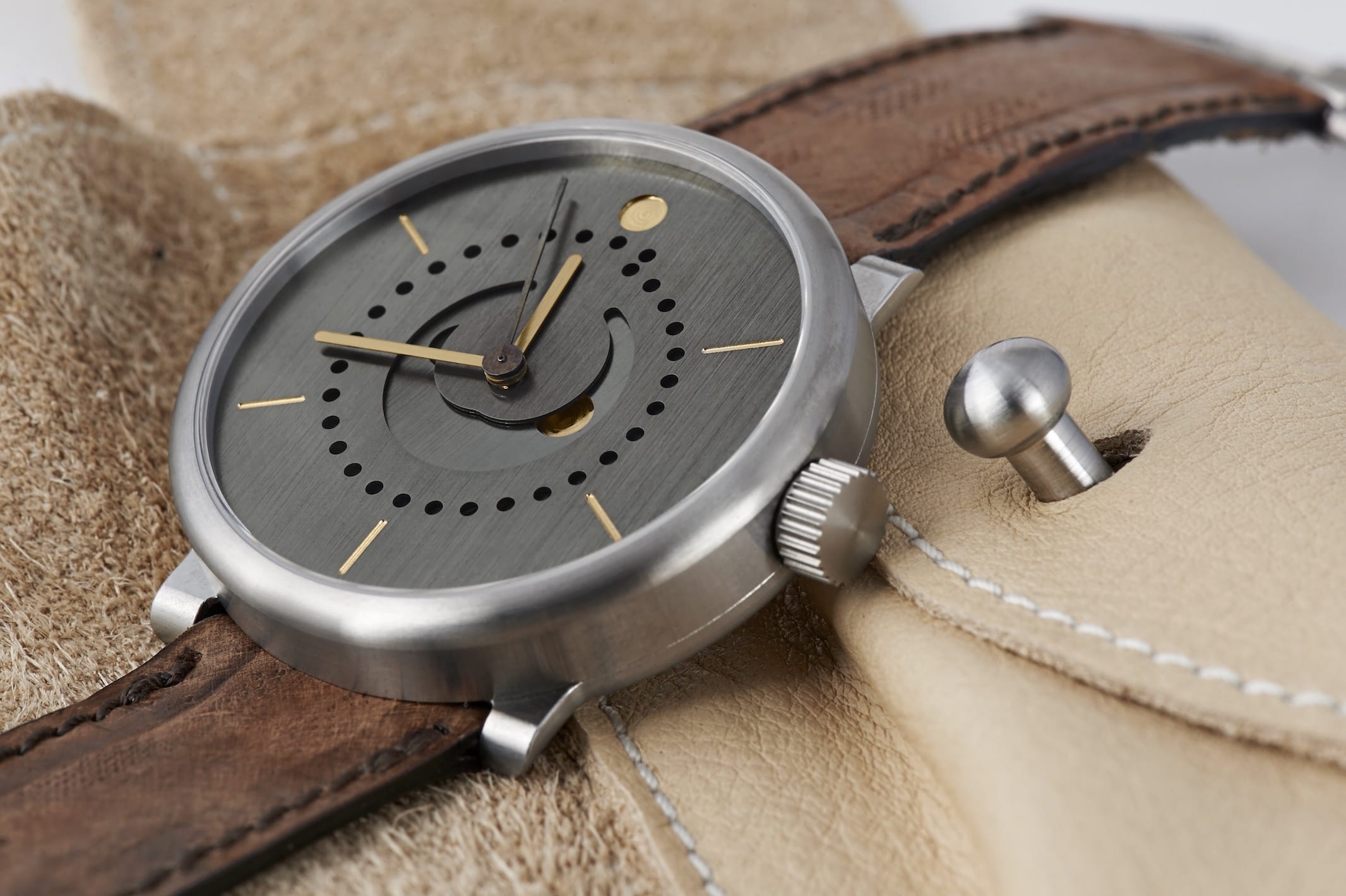 Packaging
How will I receive my ochs und junior?
Ludwig Oechslin designs ochs und junior watches to be useful, so the packaging had to be as well. Your ochs und junior comes encased  inside a handmade eco-tanned leather travel pouch. You can have it in your choice of 38 colors (color options from our German leather supplier Ecopell). The grade 5 titanium button is milled by Peter Cantieni.