David Mees
02 May 2016
Annapolis / USA
For me, the main attraction of the watch is that one of the great horological minds of our time has placed within reach a far more precise timepiece  –  in terms of the accuracy of the moon-phase display  –  than any other watch. I can afford this extraordinary precision thanks purely to the simplicity of the design. By extension, the dial's visual simplicity also has a practical effect: I am able to learn what the date is without the need to read a number. In this age of digits, it is an innovation of an old-fashioned sort, and it gives me joy.
Then there are of course the aesthetic rewards of simplicity. The dial is brilliant: with its subtle date spiral, and the "horse shoe" that shows not only the sun-reflected moon but also the dark side. I find it satisfying that the watch has a couple of complications, and offers them while refusing to give up an iota of clarity. The result is a watch that tells me the time at a glance, even when I am not wearing reading glasses, and representing also my own choices and ideas, is unique and uniquely mine.
In addition to ox-strength horology, there was also the role you played, Beat, on that crystal-clear summer's day in Lucerne that made getting this watch special. You asked all the right questions, listened to my vision, and improved it by suggesting the sun dot at twelve o'clock should be not just gold but polished, sunny gold. You had earlier arranged for me to have a little extra time in Lucerne, and after lunch you made sure I knew how to get to the wounded lion and to the glorious panorama. You gave me a memorable day!"
1 / 8
Bart Mom
22 March 2016
The Netherlands
My moon phase is still something special. It represents for me many things.
It reminds me to use my creativity and to value all what excels in simplicity. No matter how big or small, the understanding that simple is most of the time the hardest and requires understanding of the complexity at first, is very useful in my daily work as a consultant in the field of organizational development."
2 / 8
Steve Hallock
Los Angeles, California
22 January 2016
ochs und junior highlights the best of this industry.
They are a brand that has a clear ethos and sticks to it. Everything is natural and cohesive. It is a watch with integrity. This allows it to simultaneously be successful as a piece of art, design, mechanical engineering and horology.
To own an ochs und junior is to stand up for things being done the way they ought to be.
Plus they know how to make a proper espresso!"
3 / 8
Manfred Ell
Portugal
25 November 2015
When I discovered ochs und junior, what struck me the most, apart from Ludwig Oechslin's genius and 'Simplicity is the ultimate sophistication', was the possibility of having a say in 'my' watch.
So when in the first mail I asked about the possibility of having one made in bronze I was surprised at getting a call from Beat within a few minutes, telling me they had had the material in stock for a few weeks and were just waiting for the first customer to ask for it.
What a coincidence and what fun being able to choose the design to my liking!
That's really half of the fun, the other one is using it. And this is one, which will certainly stay until I pass it along to another generation."
4 / 8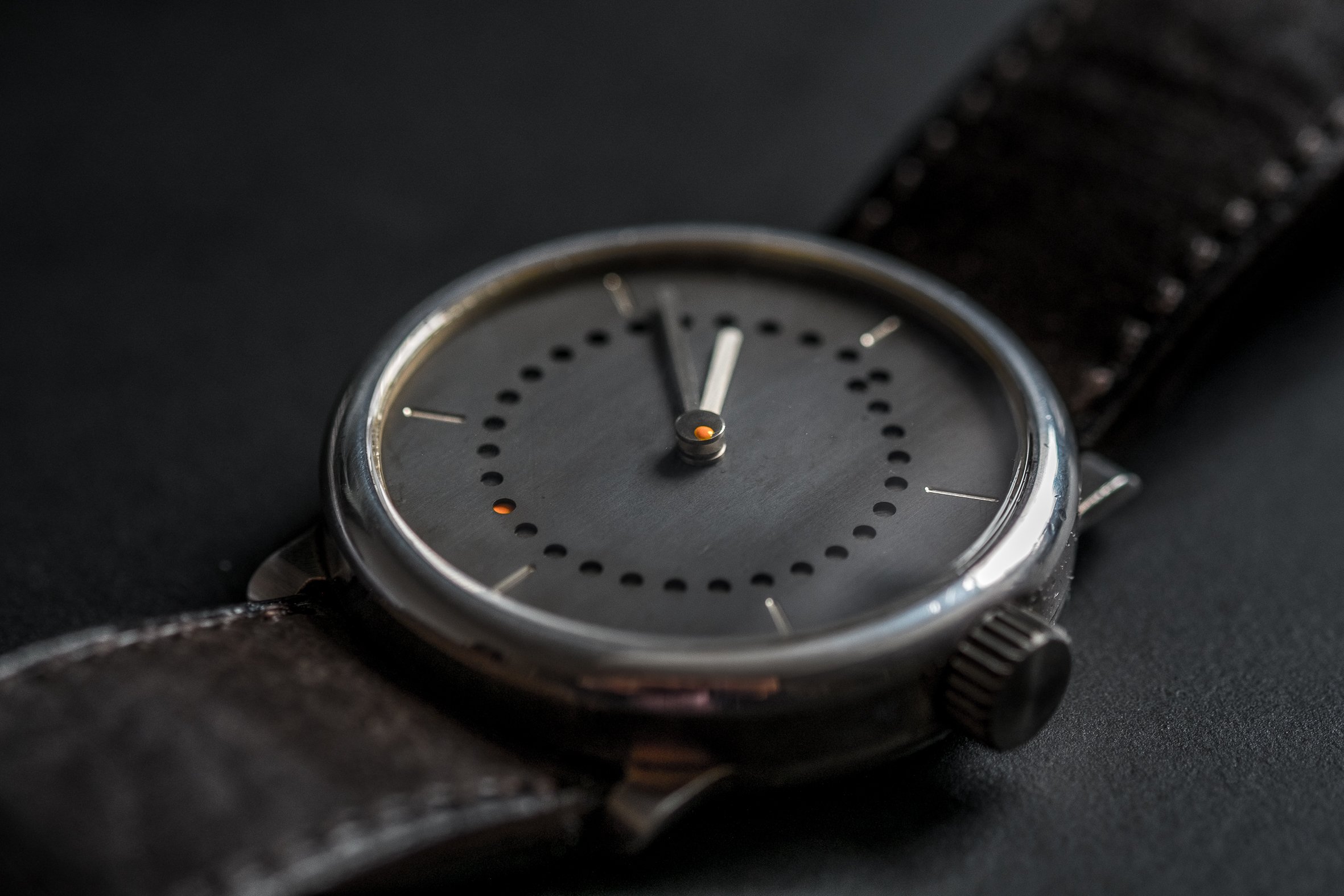 My love for your watches was born in 2010, when I came across ochs und junior in a watch magazine by accident. At the time, I was still a fan and collector of classical watches. The announcement was for the mese, which drew me in immediately with its puristic design and its incredible calendar. The correspondence which followed, as well as the visits to Lucerne  –  though back then not yet in the ochs und junior workshop  –  did the rest. I went for the puristic version in silver, with hands and a dial made from white gold.
That was 5 years ago and I have never regretted my decision. From the very beginning, I was looking forward to the patina that was expected to develop on the silver case  –  and indeed, the case is developing an absolutely gorgeous patina in the more protected areas, which interplay nicely with the more polished patches. Now as then, the watch is a dream and a gem.
Over the course of the years, I got to take advantage of your very special service  –  the watch parts that had originally been executed in titanium (crown and buckle) were by and by exchanged for parts made of silver, so that now, the watch is completely harmonious. And on top of that, we used these occasions to enjoy really nice visits to ochs und junior in Lucerne  –  now at the workshop."
5 / 8
Richard van de Werken
The Netherlands
9 October 2015
For me ochs und junior is more than just a watch company. The design philosophy is also a source of inspiration for my daily business life. Both the challenge to make a function work with as few parts as possible and the way Ludwig finds a different way to show various instances of time again and again. So simple, even for a child. After I told my daughter on the 7th of June that her birthday would be at the 25th dot, she started to count the dots and was a bit disappointed that it would take 18 more nights. But it gave her a much better idea of the time span than a digital date would have provided. In the online maps where I try to visualise traffic congestion and traffic accidents, I try to show as little as possible, but enough to tell the right story. In that approach I recognize a little part of the ochs und junior philosophy of creating beautiful, yet simple timepieces."
6 / 8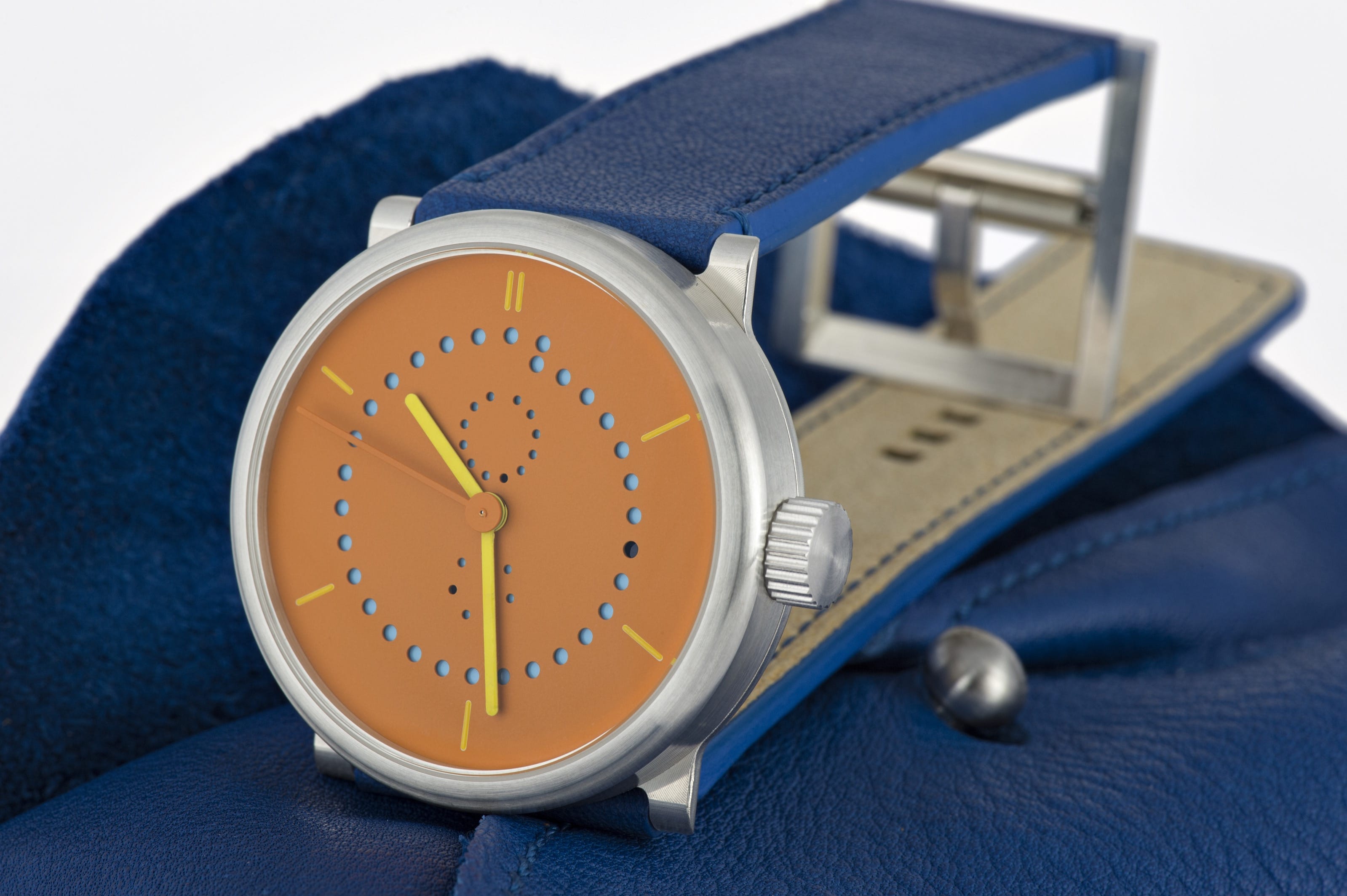 Prof. Dr. Hartmut Esslinger HonRDI
California / USA
29 July 2015
I collect authentic mechanical watches and therefore find the current 'retro-mania' embarrassing. Just like overladen or skeletonized dials. But then I discovered ochs und junior with its visually fascinating annual calendar  –  the dial might as well be an abstract graphic design  –  and the possibility of designing my own personal watch with their online customizer. It's no secret: I love colors, and in combination with the soft grace of sterling silver, the warm yellow and the fresh blue quite simply render my watch cool  – whoever sees it says 'WOW, SHOW ME!' and walks away with a smile."
7 / 8
Benjamin Clymer
Founder and Executive Editor, HODINKEE
New York City
1 March 2014
Ludwig Oechslin might just be the greatest watchmaker you've never heard of, and his ochs und junior line of handmade timepieces might just create an entirely new segment of 'anti-luxury' watches. Devoid of the 'complications for complications sake' mantra that has permeated the Swiss watch industry over the past decade, the Lucerne-based horologist offers the full range of Pantone colors for the watch's dial and hands, giving customers numerous options. Coupling bespoke design with the brilliant functional simplicity of cogs and wheels (instead of the more volatile levers and switches), ochs und junior sets a new standard for both customization and technical precision. I was so impressed by what Oechslin offers that when I wanted to celebrate five years covering the watch industry, I did so with an ochs und junior timepiece. As an expression of gratitude to our audience, HODINKEE gave the watch to one of our readers; we selected a timepiece that represented not only ourselves, but what we thought was the very best that this industry could do. As someone who owns watches from dozens of manufactures in a range of vintages and price points, I can say there isn't a single more satisfying timepiece to wear than an ochs und junior  –  it makes you feel like, for once, you're part of the solution, not the problem."
8 / 8